The Problem
Busy professionals who have moved overseas for work struggle to find a convenient time to call home. They want to stay involved in their parents' lives, but time differences often result in missed connections. Failing to establish a regular calling cadence can cause feelings of guilt or abandonment.
The Proposed Solution
A remote communication assistance app. Its purpose would be to help people living in a different timezone from close family members to connect more effectively with them via audio or video calls. Success would be measured in the frequency and duration of calls: more than a minute, two+ times a week.
Final deliverable: high fidelity wireframes.
I interviewed 4 working millennials aged 27-33.
We covered topics including their communication cadence with their parents, and the pros and cons of the tools they currently use to stay in touch. After synthesizing the data and arranging it thematically, I decided the insights I could act on were: 1. interviewees intended to have an audio or video call with parents at least once a week but sometimes forgot, 2. it was hard for them to intersect with the other person at convenient times because of the time difference.
Based on my findings, I created Maria's composite persona.
I analyzed four competitors, which were either calendars or scheduling assistants. By looking at what they offer, I hypothesized that calendar integrations, collaboration, and the ability to set reminders would all form core functionality of my proposed solution—and that I could make the interactions a lot more personal than, say, Google calendar. I mapped out a list of possible features on a 4x4 grid, in order to prioritize them as "must have", "nice-to-have", and "save for later", based on their potential impact and a user's expectations of encountering such a feature.
Several ideas from my brainstorm became—or influenced—prototyped features. I judged them to be lowest hanging fruit, and potentially most impactful for the target user.
1. The "sync calendar" tool aims to find mutually convenient time slots in overlapped calendars.
2. The "call prediction" tool analyzes call data to find the next best time to call.
3. Connection graphs encourage and praise regular contact through gamification.
4. Clock visualizations of chosen timezones make tracking time differences easy.
Taken together, I felt that these features supported the user's goal of having a more successful, consistent, seamless calling cadence with loved ones.
Based on my research, I identified the most important user flow "red routes" as being signing up, importing a calendar, setting a call reminder, and placing a phone call.
The sitemap I designed shows the app's main screen, Home, and other key screens: Progress, Smart Calendar, Available Now, and Top Contacts. There's a menu of options under More.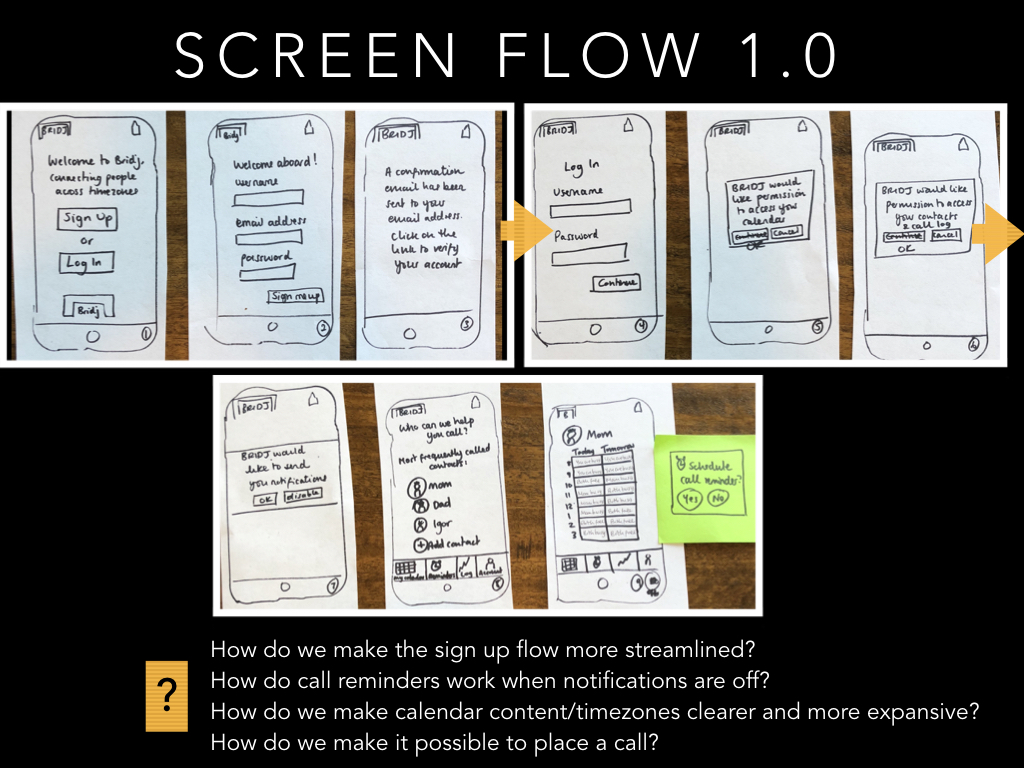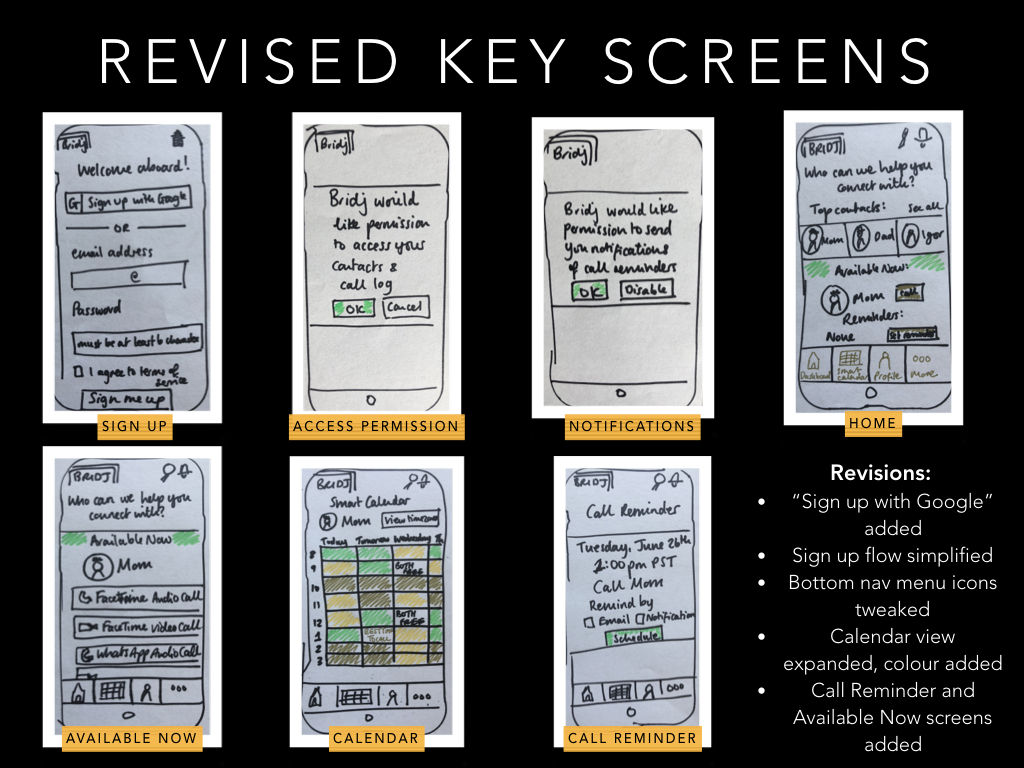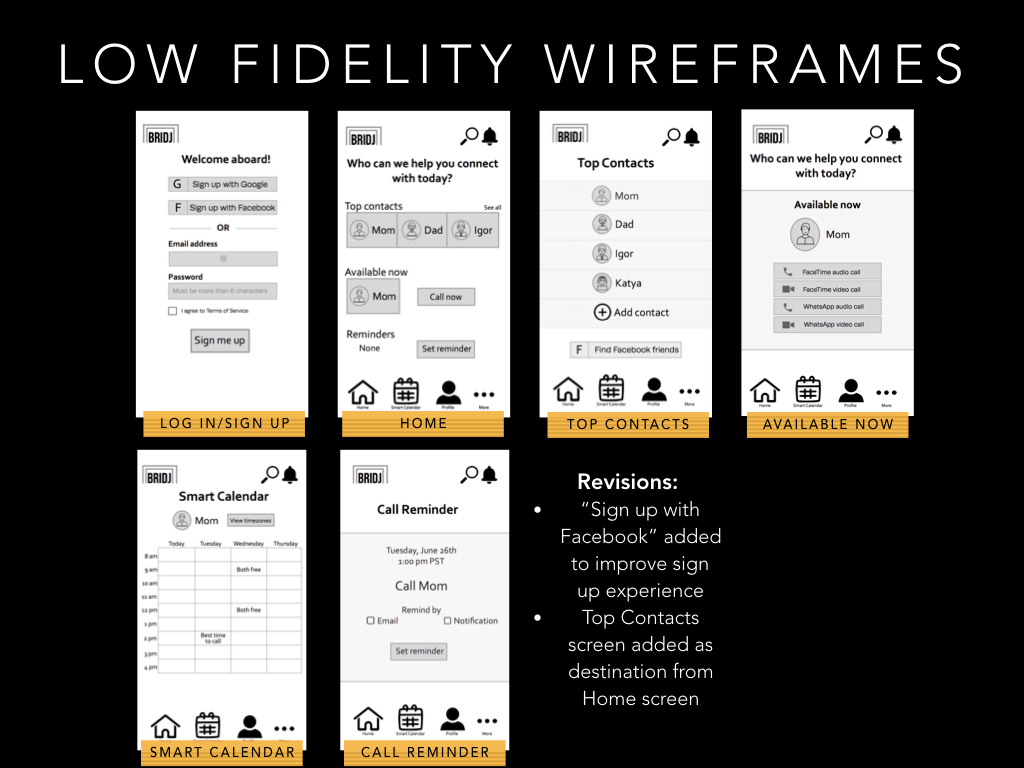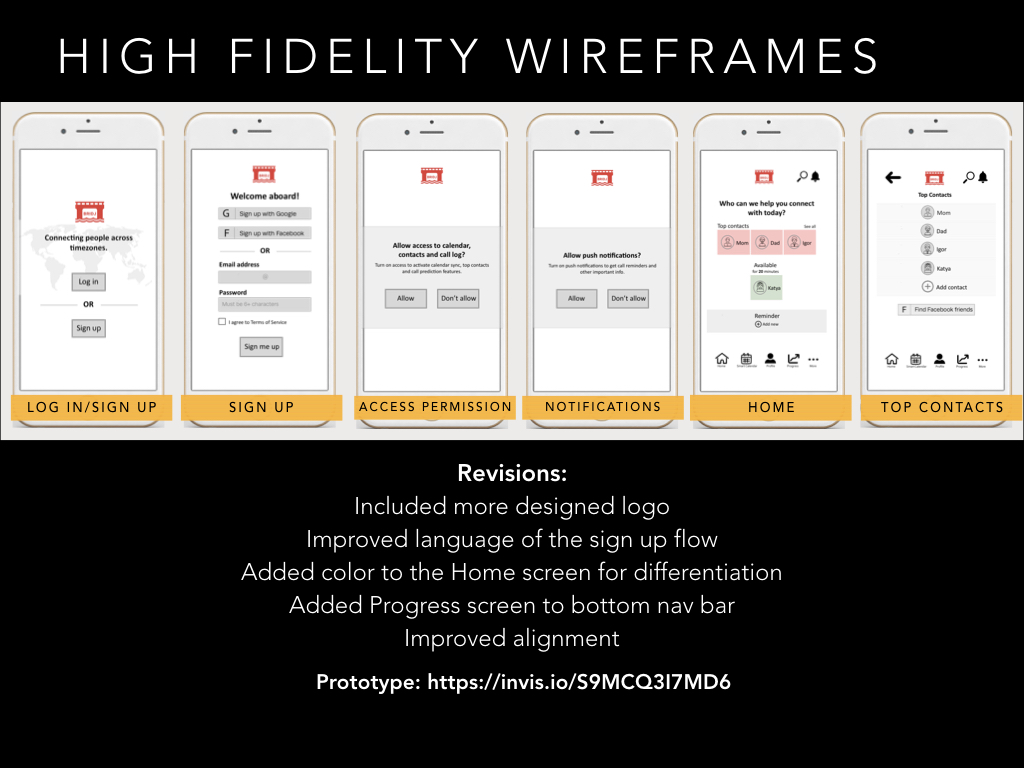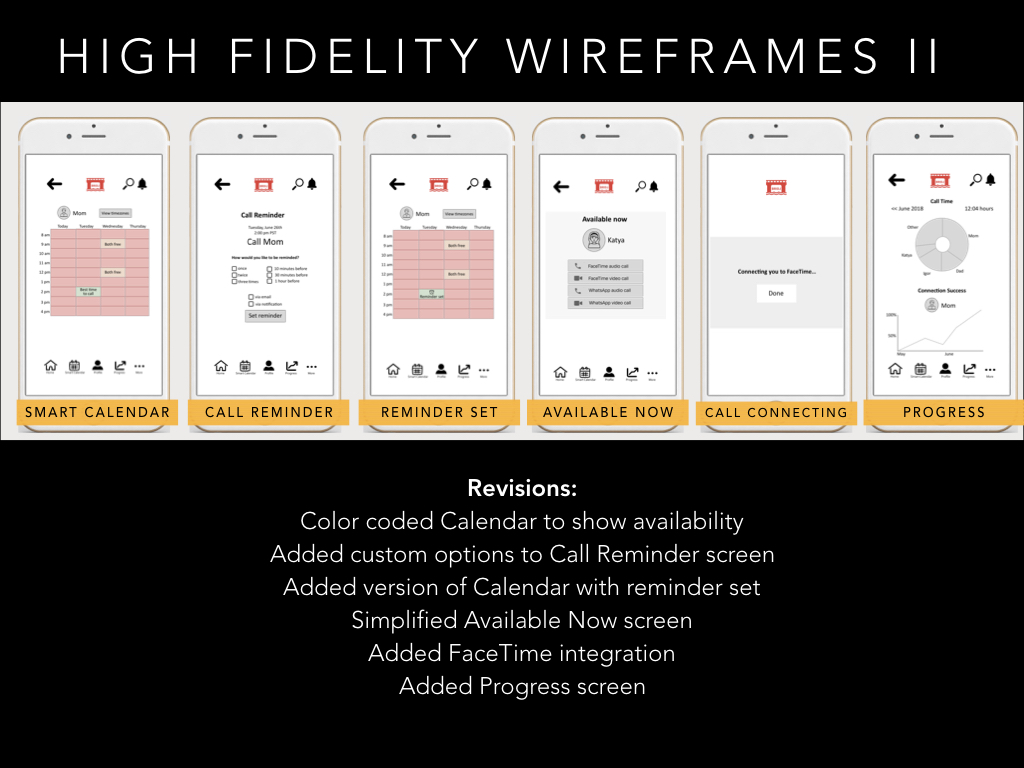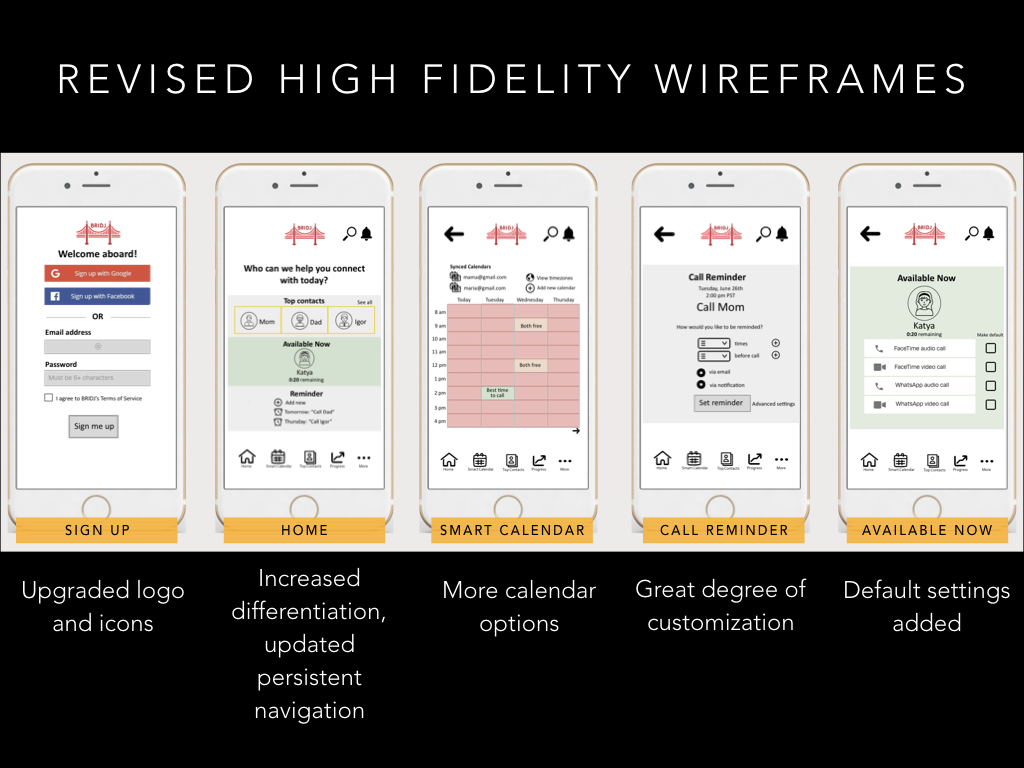 Usability testing revealed the following problems:
Users were frustrated by the narrow options for setting a call reminder, and how they were displayed. They also wanted to sync additional calendars. Solution: Display more call reminder options. Make the design larger. Expand calendar sync. Create default calling options for contacts.
Users either missed or misunderstood the meaning of the Available Now feature. Solution: Use design elements to further delineate this feature on the home page. Alter language to remove ambiguity.
Users couldn't easily find their way back to their contacts list because it was missing from persistent navigation. Solution: Redesign bottom nav bar to include (new) Top Contacts icon. Move Profile to More menu.
Feedback Filter
It's important to distinguish in usability tests between feedback on the prototype ("why doesn't this button go somewhere?") and feedback on the product ("I would never use this feature"). You need to focus on a user's expectations of what should be there and not keep mentally answering that you "haven't designed that bit yet."
Icons Matter
Icons are a key part of the visual language users are already fluent in. At the outset, not aware of the vast libraries of free icons, I drew my own into the Sketch wireframes. Their meaning was distinguishable but they acted as a distraction. This is not an area to improvise in without very good cause!
The User's Lens
Going through the design process, you are constantly generating and discarding ideas. The one true filter through which you should pass those ideas is your user's POV! Anchoring all the decisions you make in the primary user goal(s) —and continuing to test them—will ensure you design something genuinely relevant.
Document, Document
I should have gone a level deeper in documenting my thinking, while in the midst of the process. It would have made assembling the final project, and including the "why" aspect, more seamless.
Less is More
I designed a wireframe for a screen that I knew wouldn't be useful in usability tests, just because I was interested in its aesthetics. This was not a smart use of (limited) resources. Prioritize!
One Person Team
Working alone is hard. I found this to be especially true during the ideation and design phases. UX Design is highly collaborative, and I wished I could have had a thought partner. I also really longed to work with a developer to assess the technical feasibility of my ideas.
Next Steps
There are many questions outstanding regarding the market desirability, technical feasibility, and business viability of BRIDJ.
Some of these include:
With powerful scheduling tools such as Outlook and Google Calendar already out there, can BRIDJ differentiate itself enough so that customers would adopt it?

How much data would be required to teach an algorithm to accurately predict the best time to call someone?

What is the mechanism by which BRIDJ would access a non-user's calendar in order to analyze availability overlaps?

Is this a service people would pay for? Is there enough mileage in premium features to warrant a freemium business model? Which ones?
In order to begin answering them, further research is required. This would involve interviewing 2-3 times more millennial professionals and, ideally, their parents. A more thorough competitive audit would help highlight the drawbacks in existing products in this space. A product roadmap would need to be discussed with developers to assess technical needs, cost, and timing. A conjoint analysis survey would help establish which features people are willing to pay for.